Archives for January 2009
1. Second Life: Text-Based Badminton (Part 1)
2. Chakryn Forest
3. open simulator project: my stand alone sim
Massively's Tateru Nino has written a fascinating piece on the issue of games classification in Australia. Specifically, she's confirmed with the Federal Attorney General's Department that:
"Where a sale is within the jurisdiction of the relevant State or Territory legislation," Heffernan informed us, "it is a criminal offence under those laws to sell unclassified computer games. Enforcement of those laws is a matter for the States and Territories."
There may be no surprise in that to many people, but Tateru's discovery is that most MMOs have no displayed evidence of having applied for Australian classification. After doing some digging for the story, she believes it's a case of oversight combined with governmental miscommunication.
Personally, I find it hard to believe that the major MMO publishers wouldn't understand that Australia had a classification regime. The claim is that such publishers were advised in the past that MMOs didn't need to comply, which is plausible given their nature in comparison to a standard 1-person game at the beginning. Now, MMOs are so widely used it's a problematic argument to uphold. Behemoths like Blizzard's World of Warcraft and its expansion packs aren't labeled with any Australian classification – an unusual thing unless historic advice has been provided to say local classification wasn't required. WoW in particular has nothing to fear from classification given how innocuous its gameplay is and its well implemented moderation options.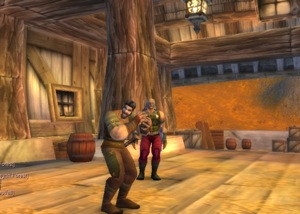 It's more an issue of principle: the government only assesses applications made to it, there's no proactive work done on ensuring new releases are classified. There's an obvious problem here – if a less responsible publisher arrives on the scene to release an MMO that would rate R18+ , it can still hit the shelves if that publisher doesn't apply for classification rather than being refused classification if they did apply. As Tateru mentions in her piece, Australia has the farcical situation of having no R18+ or X18+ categories for games, so everything at that level is refused classification. Add to that the fact that State governments are responsible for enforcing the law and it's not hard to see how this situation has arisen.
Essentially, the current voluntary application process combined with no 'adult' games ratings and the old Federal / State blameshifting actually fosters an environment where a non-ethical publisher would be mad not to release their MMO product unclassified. If they're ever caught (which seems unlikely unless the MMO is beyond the pale), there's a growing precedent of other MMOs selling tens or hundreds of thousands of locally unclassified copies. I'd have thought that would be one hell of a defense.
Hopefully the Australian Attorney General's department has another look at the issue, particularly the lack of adult game classifications, because the status quo is becoming more untenable as MMOs continue their growth in popularity. The risk is that a crackdown will occur without an expansion of the classification options – that would be nearly as bad as the status quo.
Update: Tateru Nino has posted a follow-up story on the issue
Read all about it here in CEO Mark Kingdon's post, but the upshot is that Linden Lab have gained a VP of Strategy and Emerging Business (Judy Wade) and a VP of Core Development (Brian Michon).
Both positions aren't unusual in a growing company. Both will be tested in coming months in an environment of improving infrastructure and the need for a coherent growth (or maintenance) strategy. I'd say both new positions will actually be spending a little time together as it's hard to imagine there being too big a gap between the overall strategy and the primacy of effective infrastructure.
1. VentureBeat (USA) – iMafia, a social game for iPhone with new virtual goods model. "Social games have taken off on networks like Facebook, and now mobile platforms like the iPhone. One of the newest examples is the iMafia game from PlayMesh, which has found a clever way to integrate virtual goods — a challenge for most iPhone apps. Social games like Mob Wars are already hugely popular online. But Charles Ju, co-founder of PlayMesh in San Francisco, believes the time is right to migrate the concept to the iPhone, which is capable of supporting the same features that draw audiences on the web. The result, iMafia, was released on Friday and already ranks No. 88 in the Apple AppStore."
2. The Industry Standard (USA) – Virtual worlds getting a dose of reality. "Virtual worlds, at least those looking for funding, are meeting the all-too-real world of the worsening economy, according to a new report. Prepared by Virtual Worlds Management, a provider of market research and events related to the virtual worlds industry, the report says investments in 63 virtual-world related companies declined by 58 percent from 2007 to 2008, shrinking from $1.4 billion to $594 million. This year will see more contraction, Joey Seiler, editor of Virtual World News, told The Standard. "
3. VentureBeat (USA) – Updated: Game and virtual world fundings top $885 million in 2008. "In 2008, VentureBeat chronicled lots of game and virtual world fundings. Our updated list shows 93 game companies that raised more than $885.6 million worth of venture capital and angel funds. That's nothing compared to the $4.1 billion that went into U.S. deals for clean tech, according to the National Venture Capital Association. But it's certainly a big chunk of the $2 billion that went into 407 media and entertainment companies in 2008. It's probably one of the biggest years for venture investment in video game companies. Many of these companies may shut down because of the recession."
4. BusinessWeek (USA) – Architect Designs Sony's Virtual World. "Back in July 2007, architect Kenji Ikemoto got an unexpected call from a contact at Sony Computer Entertainment, Sony's (SNE) video game unit. Was he interested in designing an online virtual world for the company's PlayStation 3 gaming console? Ikemoto, 37, was intrigued. The founder of Jota Associates had worked on residential and commercial buildings around Tokyo, but had no experience in video games and no clue why Sony would want to hire a real-world architect for such a project. The offer began to make sense when he met with officials at Sony Computer Entertainment's office: They wanted to create a virtual cityscape rivaling hip areas of Tokyo."
5. Web Worker Daily (USA) – Enhance Live Events With Virtual Ones. "I've talked about live blogging events as a way to enhance and promote a real world event, literally as it is happening. But lately, I've been asked to host virtual world events simultaneous to real world events. Mike Gunderloy and I also included planning and hosting virtual events in our 10 More New Ways to Make Money back in August. The virtual events I hosted recently were both held in Second Life. Clearly, Second Life is not dead."
6. Ars Techica (USA) – New cafe space coming to PlayStation Home. While the original iteration of Home was very light on content, Sony is attempting to remedy that with the addition of more spaces for users to socialize in. Following the release of Red Bull Island, Sony has announced a new cafe space for the virtual world. Unfortunately, it looks to be just as devoid of content as the rest of Home. A batch of screens for the new space were released on the PlayStation.com message boards, which show off the modern looking cafe area. While no details have been released, the early images don't show much promise for additional activities."
7. PC World (USA) – Teleconferencing will be Big in 2008, Gartner Says. "Current economic conditions are set to drive uptake of video telepresence in the next three years, with the travel industry losing out, according to Gartner. The analyst firm predicts that high-definition-based video meeting solutions will replace 2.1 million airline seats annually, costing the travel and hospitality industry US$3.5 billion per year. This is one of the firm's top 10 predictions for the year."
8. Times of India (India) – Virtual 3D worlds or Web 3.0? "While the world debates over what Web 3.0 could actually comprise, Sudhir Syal explores the virtual 3D World and realises that it could well be a serious contender. It was in the summer of 2004, during a conversation between internet evangelist Tim O Reilly and MediaLive International that the now inescapable term Web 2.0 was first coined. Just after the dotcom bust, Web 2.0 was meant to signify the resurgence of the World Wide Web and it was to reinforce this that the Web 2.0 Summit was first held. "
9. Scoop (New Zealand) – Virtual Islam: Peace, Love, and Some Understanding. "In these times of rockets and bombs exploding in Israel and the Gaza Strip, Islamophobia alive and well in the homeland, an uptick in anti-Semitism in Europe, a lively Rapture Index, and the economy still in a shambles, it may be worth your while to step away from these realities and enter conversations that haven't yet gotten as much attention and support as they may deserve. Dozens in Egypt, Morocco, Italy, Portugal, Saudi Arabia, France, and the United States gather to protest the recent attacks in the Gaza Strip; American University in Cairo launches a Virtual Newsroom with James Glassman, the US Undersecretary of State of Public Diplomacy, in conversation with eight Egyptian political bloggers who covered the 2008 US presidential campaign; people from around the world join in a pilgrimage to Mecca and witness a burning synagogue depicting Kristallnacht."
10. Massively (USA) – Linden Lab arrivals and departures. "The lineup of staff at Second Life virtual environment developer/operator, Linden Lab changes on a month by month basis. There's been a bit of motion since the last high-profile hire. Judy Wade, formerly Entrepreneur-in-residence at Kapor Enterprises Inc, has been hired as the vice president of Strategy and Emerging Business. That's the same Kapor as Mitch Kapor who has a seat on the board of directors as the Lab."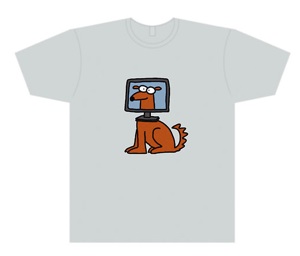 I'm really thrilled to announce we've got some t-shirts for sale. The primary purpose of the t-shirts is to raise money for Kiva, our charity of choice. Kiva provide funds to small businesses in developing countries and to date well over 57 million dollars have been lent, with over 97% of that repaid so that it can be reinvested in other businesses.
Here's how it works. Buy one of our Avatar Dog or Real Life Avatar t-shirts, and 50% of the proceeds go to Kiva. To clarify actual amounts – each t-shirt generates 20% commission, of which half goes to Kiva. The other half goes to us to assist in meeting our costs (paying writers, hosting, cost of t-shirt design etc). So on a standard t-shirt purchase, a minimum of $2.50 goes to Kiva.
There's a number of variants on offer including:
– Avatar Dog in colour, no text
– Avatar Dog in black and white, no text
– Avatar Dog in colour: "What's a metaverse? I call it home"
– Avatar Dog in colour: "Furry for life"
– Avatar Dog in black and white: "It's an avatar's life"
We're selling the t-shirts through Red Bubble, an Australia-based company that ship worldwide (they have offices in the UK and US as well). Their shipping costs are very reasonable: one t-shirt delivered to the USA is $29 US dollars shipped at present (only AU$36 or so delivered within Australia). There's a choice of up to 22 different colours and four t-shirt styles.
Most importantly, I'd like to give major kudos to the artist we commissioned to create the Avatar Dog. His name is First Dog on the Moon, and he provides a daily piece of brilliance for Crikey – read First Dog's blog to see more of his excellent work. I've been a fan ever since seeing his work appear in Crikey and I was rapt when he accepted the commission.
Comments welcome – we will be uploading further t-shirts (same design with different text) in coming months, and if popular enough we'll also be commissioning First Dog for a second design. Enjoy!
If you yelled for 8 years, 7 months and 6 days you would have produced enough sound energy to heat one cup of coffee. 
(Hardly seems worth it.) 
If you farted consistently for 6 years and 9 months, enough gas is produced to create the energy of an atomic bomb. 
(Now that's more like it!)
The human heart creates enough pressure when it pumps out to the body to squirt blood 30 feet. 
(O.M.G.!)
A pig's orgasm lasts 30 minutes.
(In my next life, I want to be a pig.)
A cockroach will live nine days without its head before it starves to death. (Creepy.) 
(I'm still not over the pig. )
Banging your head against a wall uses 150 calories a hour 
(Don't try this at home,maybe at work)
The male praying mantis cannot copulate while its head is attached to its body. The female initiates sex by ripping the male's head off. 
(Honey, I'm home.. What the..?!) 
The flea can jump 350 times its body length. It's like a human jumping the length of a football field. 
(30 minutes..lucky pig! Can you imagine?) 
The catfish has over 27,000 taste buds.
(What could be so tasty on the bottom of a pond?)
Some lions mate over 50 times a day.
(I still want to be a pig in my next life…quality over quantity)
Butterflies taste with their feet. 
(Something I always wanted to know..)
The strongest muscle in the body is the tongue.
(Hmmmmmm……)
Right-handed people live, on average, nine years longer than left-handed people. 
( If you're ambidextrous, do you split the difference?)
Elephants are the only animals that cannot jump.
(Okay, so that would be a good thing)
A cat's urine glows under a black light.
(I wonder who was paid to figure that out?)
An ostrich's eye is bigger than its brain.
( I know some people like that.)
Starfish have no brains 
(I know some people like that too.)
Polar bears are left-handed. 
(If they switch, they'll live a lot longer)
Humans and dolphins are the only species that have sex for pleasure.
(What about that pig??)
Now that you've smiled at least once, it's your turn to spread these crazy facts and send this to someone you want to bring a smile to, maybe even a chuckle. 
In other words, send it to everyone
(and God love that pig) 
1. Bailamo
(This is a promo for an online dating beach world – thought it appropriate given it's middle of summer and a long weekend)
2. Comet Morigi – the sunken museum
3. Big Blue Dress Widescreen
Over the past nine months or so, writer / director Shelley Matulick has been making a documentary about Second Life. Its working title was CyberStars but the final product has a much improved title of Alter Ego. SBS and Matulick have previously released Our Brilliant Second Life, but the latest production is a significant step up in scope.
The final promo poster for Alter Ego looks like this: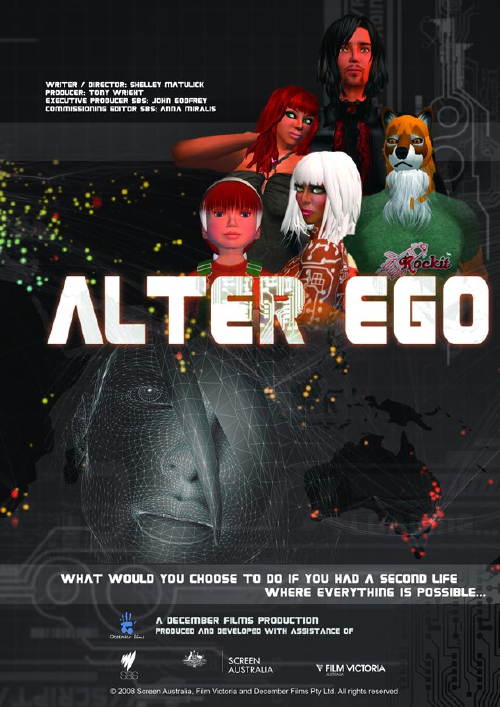 Stalwart ABC Island admin, Wolfie Rankin, is one of the subjects of Alter Ego and he gives his thoughts on the finished product on his blog. There's no confirmed release date as yet. This is a documentary that should garner quite a bit of interest, particularly if its portrayals have depth, which seems to be the case on initial impressions.
US-based Virtual Worlds Management have released their Virtual Worlds Management Industry Forecast 2009 . It features commentary from more than 60 executives across the virtual worlds industry, including Australia's Santosh Kulkarni (NICTA), Danny Stefanic (ExitReality), Bruce Joy (VastPark), and Bob Quodling (Mycosm).


Condensing a report of this size into a few paragraphs is always fraught with difficulty, but the main messages standing out for me were:
1. There's not surprisingly very different estimates put forward on the level of growth this year, given the current economic circumstances;
2. There's significant confidence that advertising models are evolving that make virtual worlds competitive with social networks like Facebook, particularly given the growth in virtual goods on those platforms;
3. Web-driven worlds are seen as having the most momentum for 2009;
4. Enterprise use of virtual worlds remains unclear, with a split between those who believe the economic climate provides opportunities to demonstrate cost savings versus those who believe any IT expenditure will be under significant scrutiny.
From the Aussie contingent, one of the more amusing comments came from VastPark's Bruce Joy:
3D on the Web will continue to be a bit disappointing, but will become far more commonplace through Unity and Flash based engines like Papervision. This suggests 2010 may be the watershed year where 3D on the Web goes mainstream. That's when we all become rock stars and live large, right?
Mycosm's Bob Quodling claims "Wireless mobile will be the biggest play" – is that as opposed to 'Wired Mobile'?
Danny Stefanic from ExitReality sees much clearer ROI cases coming forward for business, whilst Santosh Kulkarni from NICTA cites the developments in interoperability between worlds a key issue.
If you're interested in some comprehensive thoughts from the virtual worlds industry itself, then have a read of the full report. We'd love to hear your thoughts – is the report a realistic assessment of 2009 prospects, a group of insular assertions from an industry desperate to gain mainstream relevance, or something else altogether?